12-29-2011, 04:18 PM,
conchylinet
Member


Posts: 241
Threads: 81
Joined: Aug 2007
Reputation: 0
young conch
Hi
Can somebody help me with this shell?
I believe it is a juvenile Strombus or Lambis, it comes from Mauritius and sizes 4 cm.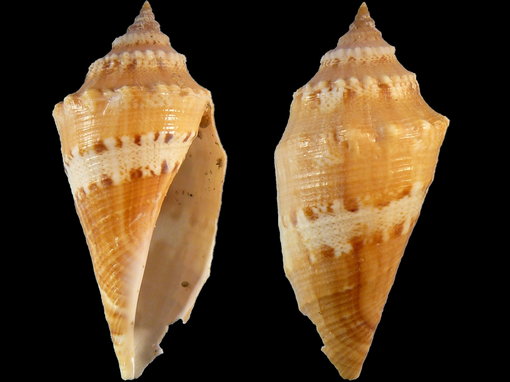 thanks
pierre

12-30-2011, 03:56 AM,
Emma
Member


Posts: 137
Threads: 34
Joined: Jan 2011
Reputation: 0
Re: young conch
It could be Strombus gallus. What do you think, Pierre?
Best wishes,
Emma.
12-30-2011, 06:03 AM,
dave r
Super Moderator


Posts: 728
Threads: 36
Joined: Nov 2007
Reputation: 0
Re: young conch
Gallus? Not from Mauritius, gallus is a caribbean species. It could be a juvenile Lambis scorpius indomaris but at that size it could be something else. I would say definitely Strombidae though.
12-30-2011, 07:21 PM,
Bart
Junior Member


Posts: 46
Threads: 2
Joined: May 2011
Reputation: 0
Re: young conch
I agree with Dave. I think it is a very juvenile Lambis scorpio indomaris Abbott. During my collecting-trips to the Seychelles in 1983 and 1985 I have seen Lambis in all stages; very juvenile to adult from species like: crocata, scorpio indomaris and truncata. Needless to say that they were left alone when still living (or occupied by a hermitcrab).
At some beaches juvenile Strombs (and Lambis) were fairly common in beachdrift. Problem with Lambis is that there is quite some difference between the juvenile and adult stages.

01-01-2012, 05:48 PM,
conchylinet
Member


Posts: 241
Threads: 81
Joined: Aug 2007
Reputation: 0
Re: young conch
Thanks you for these inputs.
According to the most commonly adult Lambis we can see here it can be Lambis chiragra, truncata, crocata or digitata (likelihood decreasing). scorpio seems to be rare in Mauritius (i have never observed it but according to litterature, it should be around).
Pierre
Users browsing this thread: 1 Guest(s)