01-22-2012, 08:55 PM,
wolfi
Member


Posts: 113
Threads: 10
Joined: Sep 2010
Reputation: 0
Re: Calliostoma zizyphinum
Hi,
Trochidae are tricky, sometimes....... . I'm not sure about the first specimen you called "
Calliostoma
" (on the left side). The second specimen (on the right side) might be
Gibbula divaricata
(L., 1758) or
Gibbula rarilineata
(Michaud, 1829).
Sorry 

, but personally I don't think your "
Osilinus turbinatus
" (=
Monodonta turbinata
) is an
Osilius
(or Monodonta) species at all. The genus was named Monodonta because of the little dens (a flat tooth) at the columella, which I can't see in your specimens.  Furthermore, the
Osilinus
species get much larger than your specimens and the general shape of the shell is different (as far as I can see from your pictures).
Please excuse me, but it's often helpful to take a "frontal view" picture from the shells: axis of the shell exactly vertical, opening (= aperture) facing to the camera. Then it's much easier to judge the shape of the whorls, the sutures and the general shape.
For example: frontal view of a shell: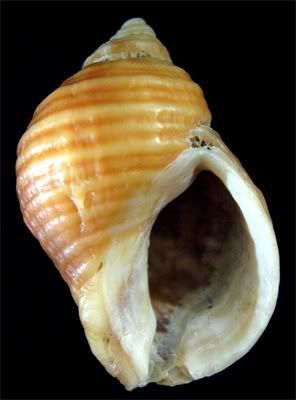 I hope I could help
a little bit
........ .
Kind regards: wolf 
Edit: sorry, Poseidon, I was too late (it takes too much time for me to write in English 

, you are absolutely right. Sorry, again......... .
Users browsing this thread: 1 Guest(s)